Visit Portumna - First Aid
UPDATE
Since August 2017 Lorrha Community Responder Group has been fully operational with the National Ambulance Service, responding to a variety of 999 calls in Portumna town and some of the surrounding areas. Their First Responders from Lorrha village reach Portumna within minutes of the 999 call being placed. Volunteers from Portumna are currently being trained by LCRG in order to increase coverage and further reduce response times to critical medical emergencies.
Community First Responders
Emergency medical calls made from Portumna town are covered by the National Ambulance Service (NAS), which is now working alongside Lorrha Community Responder Group. LCRG is a highly trained group of volunteers registered and vetted by the NAS. When an appropriate 999 call is made within their radius, the NAS control will dispatch Responders at the same moment that the ambulance is dispatched. LCRG has two defibrillators that are mobile at all times, so at least one should arrive each time that the group is dispatched to a scene by the NAS.
Community First Responders deal primarily with cases of chest pain, breathing difficulty, choking, stroke, and cardiac arrest. Approximately 5,000 people in Ireland die from cardiac arrest each year, and in 2012 the survival rate for out of hospital cardiac arrest was only 5%. Early intervention by a trained responder with CPR and a defibrillator has been shown to be capable of raising that survival rate to 75%.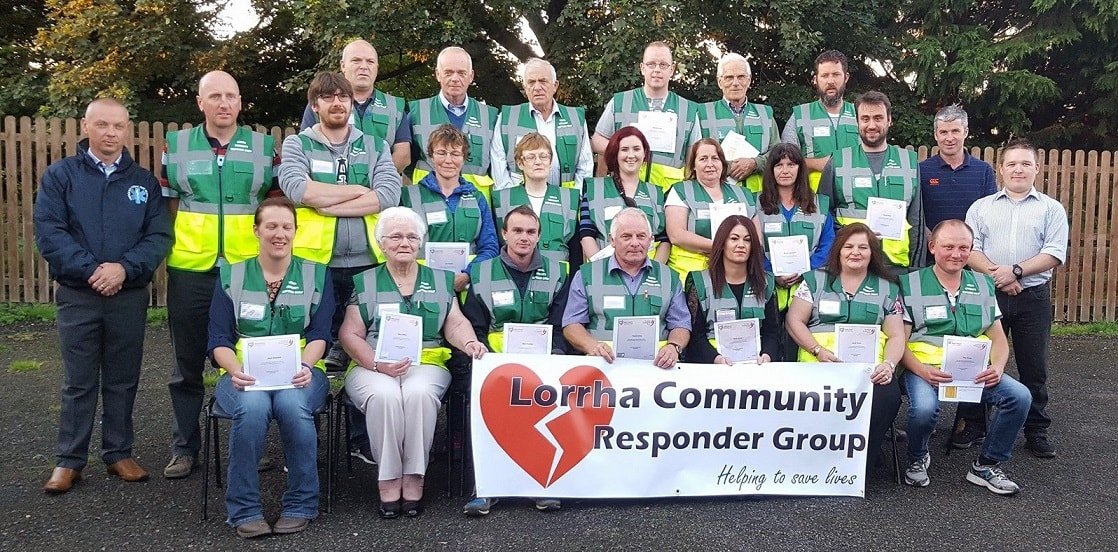 It is hoped that Portumna may re-establish its own First Responder service in the future, but in the meantime an invitation has been extended by Lorrha to any willing volunteers in the town. For anyone in Portumna wishing to become a First Responder, it will be possible to become trained, vetted and registered through the Lorrha CFR group. Having First Responders living and working in Portumna will greatly improve response times for any medical emergencies in the town. Studies has shown that for every minute that a cardiac arrest victim goes without treatment, their chances of survival can fall by up to 10%.
For anyone interested, please get in touch with Nancy White on 087 761 3458, or Ruth Needham on 087 946 3749. Also, be sure to "like" the Facebook page for Lorrha Community Responder Group for regular information and updates.
Defibrillators
Whilst Portumna has a number of defibrillators in fixed locations, some of these are privately owned and are not available to the wider community. Others may be low on battery or have out of date pads. So to avoid giving misleading information, we will delay putting up a map of defibrillator locations until we have been able to find out exactly which ones are available to the community in the event of an emergency. In the meantime, LCRG will be supporting the town of Portumna with their own mobile defibrillators.