Portumna Heritage Trail
1. Fairgreen and St. Brigid's Church
Click here to return to the Portumna Heritage Trail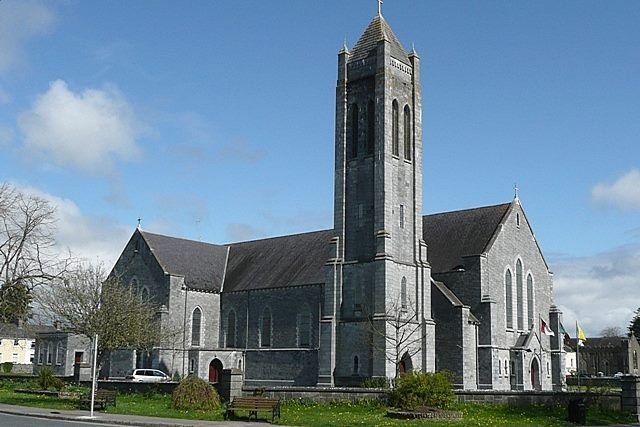 Fairgreen
The Fair towns were very important towns and people walked for miles on a fair day to go to sell their produce. Until the Fair Day people would have no money and so once the produce or the animals were sold then the bills would be paid.
The Fair towns in any county were major towns, places the population concentrated on, those that were important because of their fairs in the past may no longer be of any importance in a county today.
Fairs and outdoor markets were once a very common feature of Irish towns and cities and Portumna is described in historical documents as a Fairs and Market town.
The towns first Fair Green was located just outside the gates of Portumna Castle and the Earl of Clanricarde was empowered to collect the tolls of the fairs. From earliest times Portumna had three fairs annually but in 1796 it was granted the right to hold two extra fairs in the town.
A new Fairgreen was laid by the 14th Earl of Clanricarde in the 1830s when the new street of the town was built. By 1846 six fairs were held in the town each year and this number increased over time so that by the end of the 19th century the town was the venue for twelve monthly fairs. In addition, a weekly market was held in the town on each Saturday. In the 1950s the Fairgreen became the site for the new Catholic Church and the Fairgreen reverted back to its original position on Castle Avenue. In more recent times it had been converted into a childrens playground.
St. Brigid's Church
ST. BRIGIDS CHURCH in Portumna Town was commissioned by the late Fr. P. Jennings, P.P., in the 1950s, designed by Messrs. W. H. Byrne and built by John Meenaghan, Contractors, Dublin. The material used in this Church is Cut Stone and Mahogany. Cut stone from the ruin of the new Castle in Portumna Forest Park was used to build the new Church at Portumna Nothing remains today of the New Castle only the view to the lake from its site (now the carpark in the Forest Park).
The Church was solemnly opened and blessed by Most Rev. Wlm. Philbin on May 11 1961. Bishop Hanley of Elphin preached the sermon. The spire was added later, and built by Thomas Mitchell, Contractors. The Church has seating accommodation for about 900 people.
The Mahogany Seats, Confessionals, Presses etc. were all manufactured on the site by Paul Connolly who was employed full time by Fr. Jennings till the job was completed. Most of the furnishings were donated. To the west of the Altar is the NUNS CHAPEL, which is now used by the Parishioners.
The site was once the old Town Fair Green.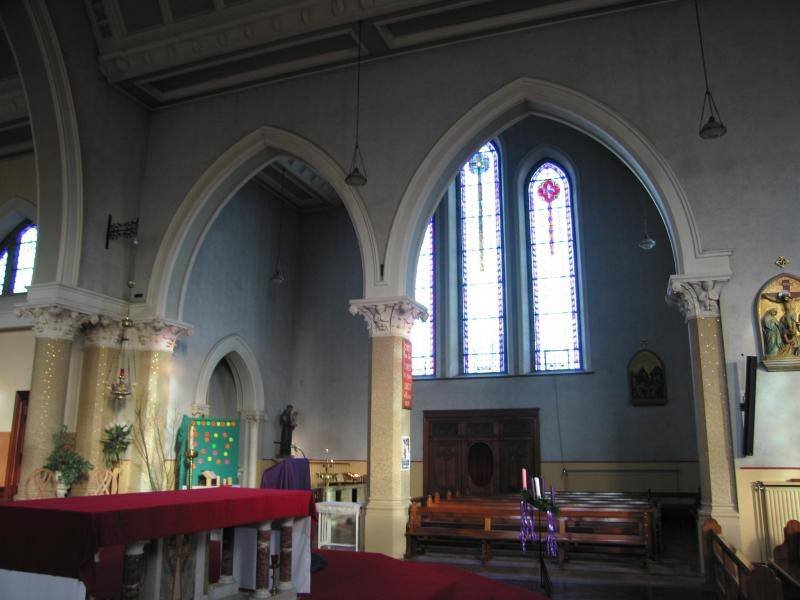 Description:
Freestanding gable-fronted cruciform-plan Roman Catholic church, dated 1958, with six-bay nave, single-bay transepts and single-bay lower chancel, nuns' chapel to north-west, sacristy to north-east, gabled projecting porch to gable-front, flat-roofed projecting porches to re-entrant corners of transepts and nave, double-height gabled projecting porches to either side of south end of nave, and flat-roofed confessional box projections to nave. Pitched slate roof with cast-iron rainwater goods supported on stone corbels, cut limestone copings, and metal cross finials to gables. Snecked limestone walls with ashlar plinth course and continuous sill course and buttresses to front elevation and transepts. Lancet windows having cut-stone surrounds and sloping sills and stained-glass windows to nave. Pointed arch openings with triple-light stained-glass windows to gable-front and transepts. Oculus with stone mullions to chancel. Pointed arch door opening to gable-front with timber battened door, hood-moulding and with name and date plaque to west. Pointed arch openings with timber battened doors in angle porches. Square-headed openings with timber battened doors and tripartite overlight to porches at south end of nave. Coffered ceiling to interior, timber gallery, glazed timber double doors. Marble columns to transepts having decoratively carved capitals and supporting pointed arches. High relief Stations of the Cross. Carved marble two-tier reredos with marbel panels and colonettes. Chapels insde front of church have decorative wrought-iron gates and railings. Two-bay single-storey outbuilding to north-east of church with pitched artificial slate roof and cast-iron rainwater goods, snecked limestone walls, square-headed openings with chamfered surrounds, cut-stone sills and timber windows, double-leaf door and overlight. Marble statue on moulded limestone base surrounded by ornamental garden to east of church. Freestanding tower to south-west of church. Set within former fair green with snecked limestone boundary wall to east, south and west and rubble limestone wall with cut-stone coping to north. Square-profile ashlar limestone piers with mild steel and cast-iron gates.
Appraisal
Saint Brigid's is a large and surprisingly late stone-built Catholic church, dating to 1958 by architect Simon Aloysius Leonard of W.H. Byrne & Son. The limestone work is of evidently good quality, some of it reputedly reused from a medieval castle in the district. The classic cruciform plan is given added interest by the varied porch projections, the buttressed gable-front and the different window types. The setting is particularly pleasant, on a former fair green with the lawned grounds, with the unusually freestanding tower, bronze and other statues, and the boundary walling and gates all adding significantly to the site.
History of the site
St. Brigid's Church was mostly constructed from the stone of the New Castle described below which was built where the car park of Portumna Forest Park is situated now. The Gothic mansion was built as a replacement Castle for the one burned down in town.
Planning Permission Feb 1st 1862 - A magnificent mansion is about to be built at Portumna for the Marquess of Clanricarde, according to deigns by Sir Thomas Deane and Son. architects. The style adopted is French Gothic, and in lie general character of the groupings is most picturesque and effective. In the main buildings are comprehended on ground floor an extensive suite of apartments, together with grind hall and staircase, spacious corridors, 4c., and on the upper floor are various bed, dressing, and bath-rooms, &c, &c. Numerous and suitable offices are also attached. Messrs. Cockburn and Sons have been declared the contractors, at a sum under 15,000.
The Irish Builder (Dublin, Ireland), Issue Date: Saturday 1 February 1862.