Portumna Heritage Trail
18. Portumna Courthouse and Bridewell
Click here to return to the Portumna Heritage Trail
Portumna Court House, dating from 1847, is one of the town's most significant, high-quality, cut limestone buildings and is prominently positioned on Clonfert Avenue. It was designed by James Francis Kempster, the county surveyor for Galway East Riding, and was built at a cost of £1,000. It is a four-bay, two-storey, detached building with a parapet that partially conceals the pitched slate roof. A single bay, single storey building is attached to its east side.
In addition to holding Petty and Quarter Sessions, the courthouse was also the venue where concerts and other social events were held. In April 1852 an orchestral concert was staged there and in 1910 the Nenagh News noted that the courthouse was the venue for a grand concert, run in aid of the Total Abstinence Society.
It was also used as a Jail House? The "Irish Petty Sessions Court Registers" for Portumna cover the years 1851-66, 1877-1913 and contain the names of both complainants, defendants and the nature of the offence. Situated to rear of court house, the bridewell adjoining Portumna Courthouse was used for short term imprisonment of offenders. The requirement for security is reflected in the small cast-iron windows.
An official inspection of this premises in 1853 found that the building was clean and in good repair but the inspector found a dog in one of the cells and a goat in one of the day rooms. The only prisoner, a deserter named Patrick Head who had been confined to the bridewell for five weeks, complained of being starved. Thomas Coghlan was the keeper of the bridewell in 1856 and Robert Coghlan, possibly a relation of his, held the position in 1881. The bridewell building was converted by Monsignor Joyce in 1925 to become the new town hall. Its conversion to a community hall means it continues to play a social role in the town of Portumna.
The Courthouse is a detached four-bay, two-storey former bridewell, built c.1847, with lean-to extension to front, and a corrugated-iron roof. Pitched slate roof with cut limestone chimneystacks and eaves course. Rendered walls. Square-headed openings with raised tooled limestone surrounds and sills, and cast-iron fixed paned windows.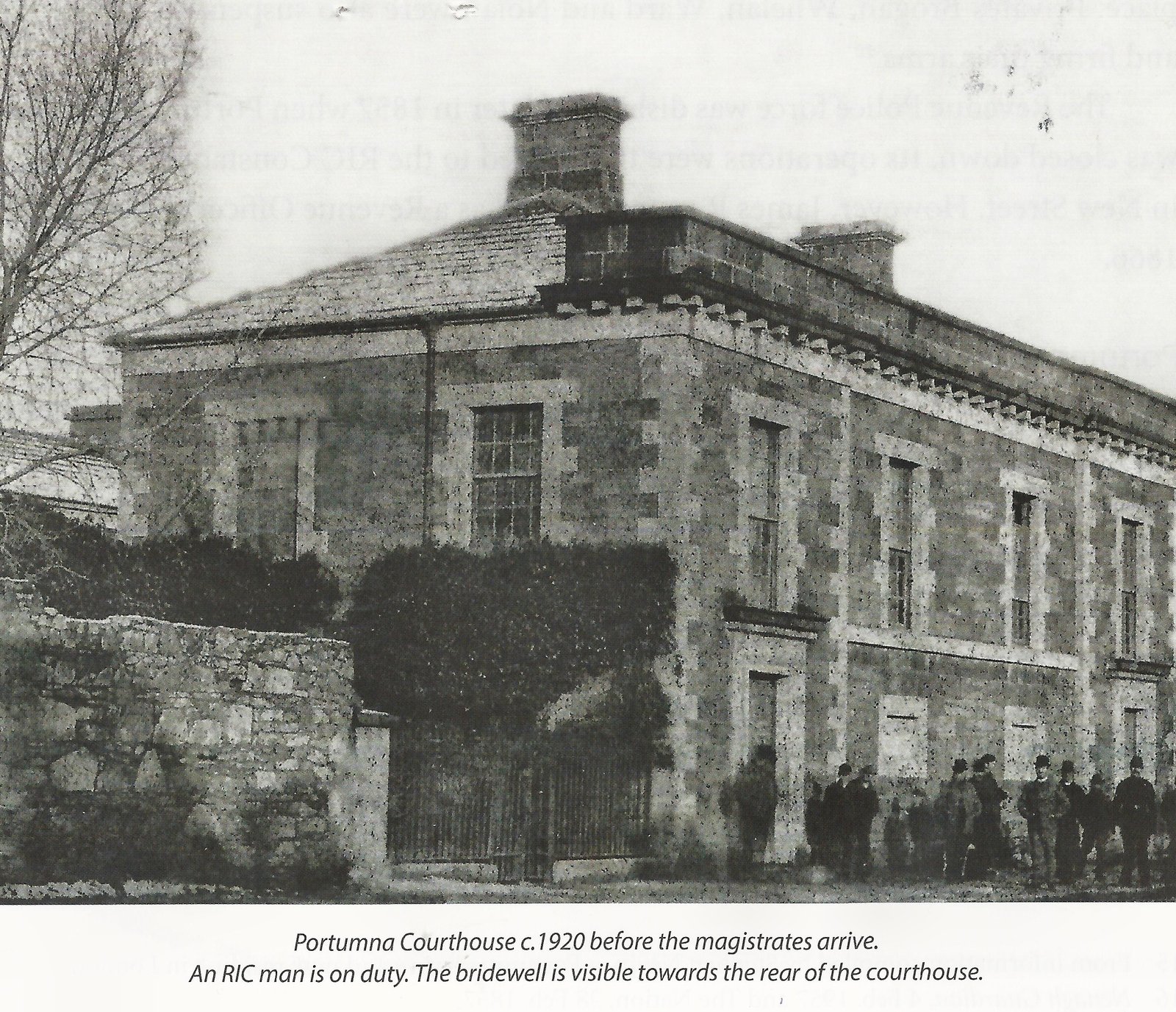 Description
Detached four-bay two-storey neo-Classical court house, dated 1847, with slightly advanced end bays to front (south) elevation, and single-bay single-storey block to east end with pitched slate roof. Two-bay elevation to west and three-bay to east. Roof hidden behind ashlar limestone parapet, with moulded stone cornice having modillions, ashlar limestone chimneystacks, and cast-iron rainwater goods. Ashlar limestone walls with tooled plinth course, tooled band to eaves, tooled quoins, tooled sill course to recessed part of front façade, and recessed rectangular panels to ground floor below window openings of recessed bays having tooled surrounds. Square-headed window openings to first floor with block-and-start surrounds and twelve-over-twelve pane timber sliding sash windows, those of end bays having cornices of doorways as sills. Square-headed blind window openings to west elevation, having similar surroudns to elsewhere, with cut-stone sills. Square-headed doorways to end bays with carved surrounds, moulded dentillated cornices and timber panelled double-leaf doors, and stone steps. Cut-stone piers to east, with corrugated metal gate. Former bridewell to rear.
Appraisal
Court houses were built in many towns and cities throughout Ireland during the late eighteenth and early nineteenth centuries by the Grand Juries. While the architect of Portumna court house is unrecorded, the building is of evident architectural quality. The blank areas of walling, large stone doorcases reflect its judicial function. Its scale and robust architectural expression make it one of the most significant public buildings in Portumna. It occupies a dominant position in the streetscape and forms part of a group with the adjoining bridewell.